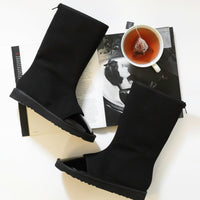 Toasty Toes...and cute, to boot!
No more flip-flops in winter, plastic wrap, or waiting hours in the salon for toes to dry!
Getting a pedicure is a snap in the summer, but cooler weather presents a problem for fancy feet.  So what's a girl to do? Enter Bootie Pies. These patented, luxurious, pedicure-friendly boots provide the warmth that flip-flops can't, eliminate salon waiting time and keep wet toes exposed! An ingenious and stylish solution - being the first of its kind!